Introducing Hexway Apiary, a new pentest management platform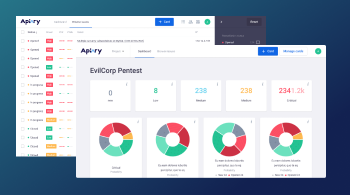 Cybersecurity specialists are often faced with a large number of challenging tasks. To help them reduce expenses and make their work even more effective, we've launched a new platform for managing IT security audits – Hexway Apiary.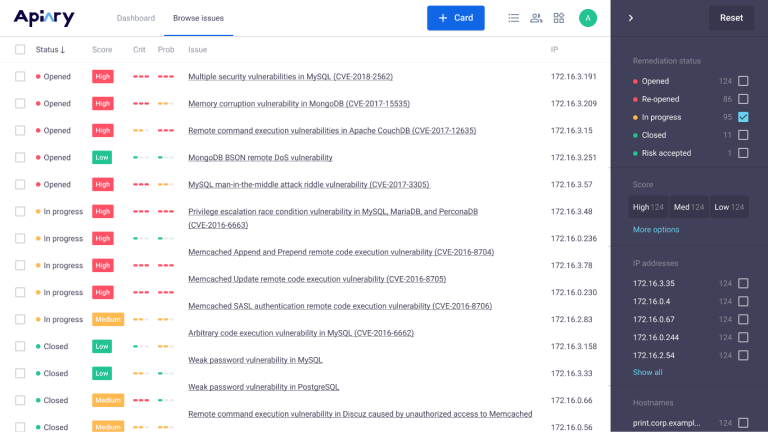 It's a part of our collaborative pentest platform, Hexway Hive, meant for the clients. However, Apiary would be helpful for both sides of the pentesting process. If you're a pentest team, you can demonstrate the main points and results of a penetration testing to your client and stand out among your competitors. If your company worries about cybersecurity, you will be able to collect and structure all historical product data, coordinate external and internal teams, and visualize IT security audit results. This will help you fix vulnerabilities faster and save precious time.
Let's focus on Apiary's capabilities.
Managing IT security audits

Apiary and Hive exist in a single pentesting environment. It allows the clients to keep in touch with the pentesters, guide the process, and see the progress of their projects.
You have no project limit and can conduct as many simultaneous external or internal audits as you need.
Data visualization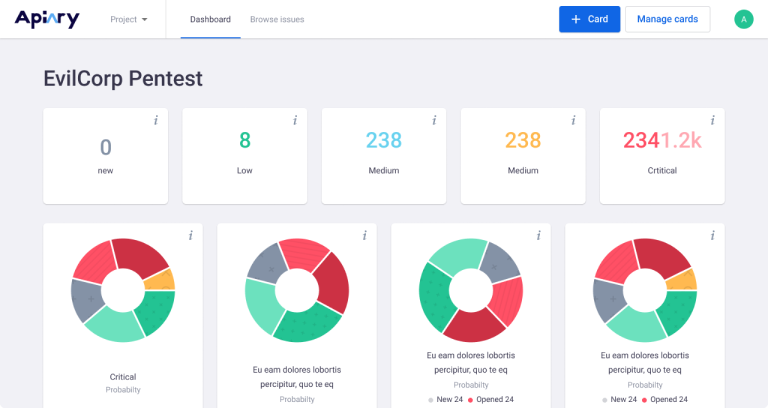 After you receive the data, you need to see the main parameters in an understandable form. Custom dashboards will help you stay on top of things. 
And there's more. In the future, we will add such functions as attack chain and dead-end attack vectors that show you a detailed path and whether it led to vulnerability detection or not.
Fixing vulnerabilities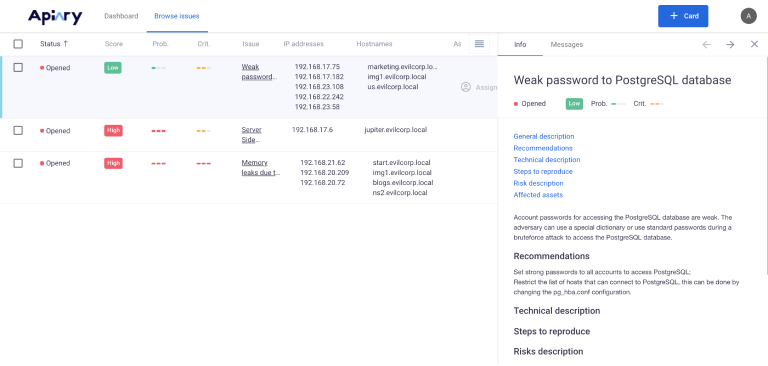 With Apiary, you don't have to wait for the final report to fix critical vulnerabilities, you will know about them immediately. Only if you'd want that, of course. 
You can view vulnerability cards with remediation recommendations; you'll be able to assign the responsible person directly in Apiary or import tasks to external trackers. For example, we have direct integration with Jira. 
As you may have understood, we tried to create a platform that improves your experience with managing IT security audits at every stage, from planning to retesting.
If you want to try it now, you can use the online demo version of Apiary.
If you have any questions, proposals, or feature requests, please contact us at contact@hexway.io.