Spooky 0.46 version. Hive LDAP, checklist summary & new parsers!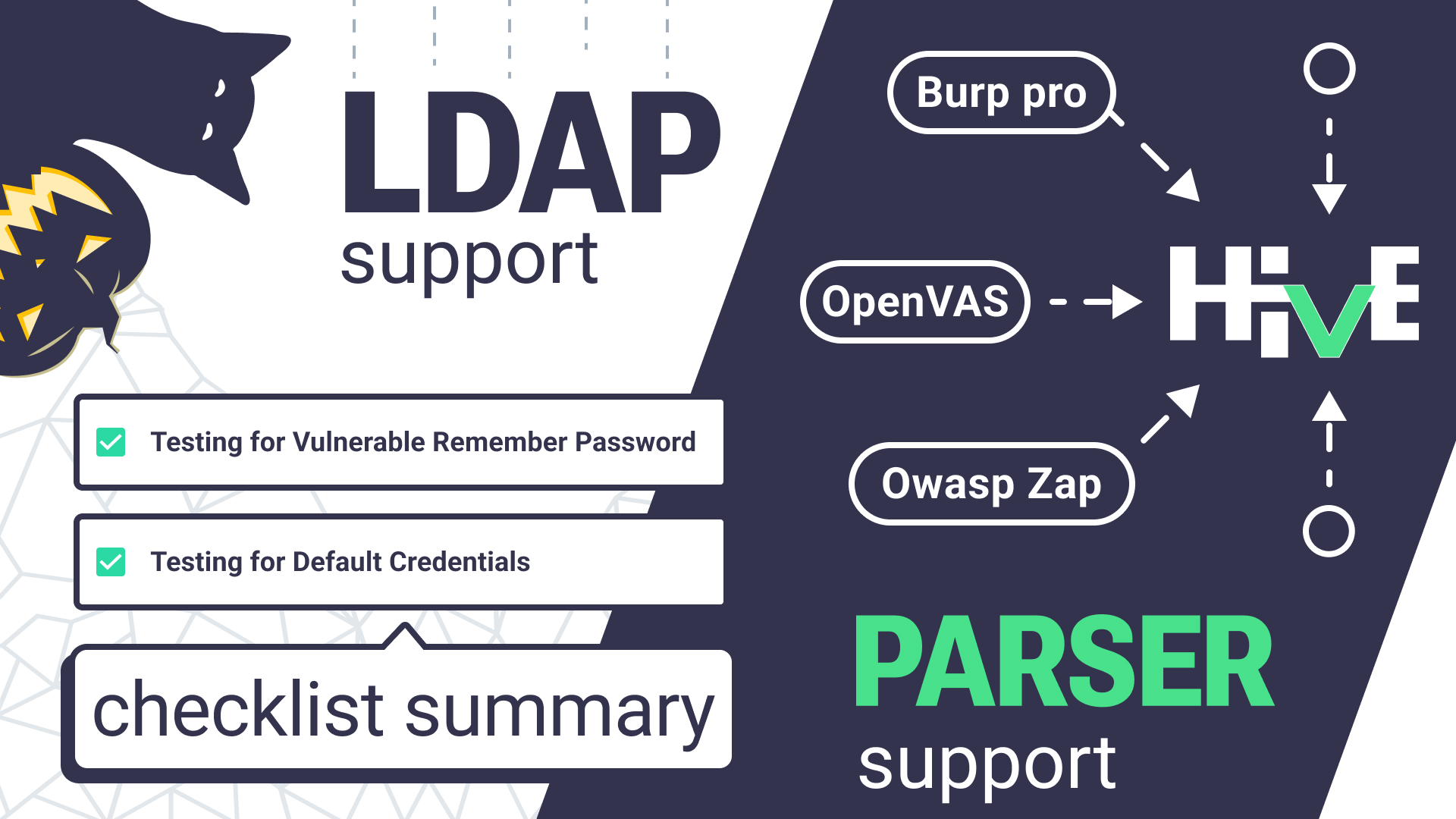 Well, Halloween's coming, so we have prepared a few awesome feature treats for you. No tricks included! 
How about taking a look at what this update has in a pocket? 
LDAP Hive support

New integrations (Burp, Zap, OpenVAS)

Checklist summary

Required custom fields for Jira issues

Nessus parser improvements

"Affected Assets" filter

Password change for Apiary

Super fix for Hive & Apiary connection

Long status UI fix

Score sorting in Apiary fix
LDAP Hive support
As we all know, LDAP is a very important feature to have as long as you want to keep your sensitive data safe. We have already implemented it for our Enterprise Apiary users. They have also managed to evaluate its' benefits on user management, maybe the time has come for you too?
So, it's time to present it to our Pentest plan users!
Interaction with directory services has never been so easy and secure! If you still have any doubts, just update your version and try it out by yourself (online also works)!
New parser integrations
Oh-la-la, you've asked for this! More favorite utilities and tools are being delivered. 
If you remember Hexway story correctly, you might know that we came from a pentest world with a huge amount of different data sources to aggregate. So, we know how important it is to comfortably (and not manually) import data from a daily range of tools. 
That is why we have added a few more tools for you and your team!
Welcome: 
Burp pro

Owasp Zap

OpenVAS
You can now add IP's, hostnames, and issues from them and work with this data without additional headaches.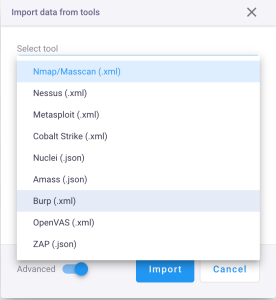 Checklist summary
Many pentesters keep an eye on a such feature as checklists. It's not just because it's cool (but it's cool tho), but because it helps to structure the workflow and never miss a thing. Especially when it comes to following the methodology correctly. 
Let's explore how this new checklist add-on can help you with improving your pentests. We've added a new field called "Result" which basically allows you to summarize the results of processed check-ups:
What checkpoints were done?

What went wrong?

Why something was skipped? 

etc
Your team members can now see how it went and not spend time re-reading the whole checklist (they can be massive). 
Required custom fields for Jira issues
Well now, the more — the better. We've made our Jira integration even more smooth. If your tickets contain custom fields — it's not a problem anymore!
Nessus parser improvements
Nessus parser has been improved and it now shows the value of the ports on which the issue was detected.
Just add in your issue schema an additional field "Affected port".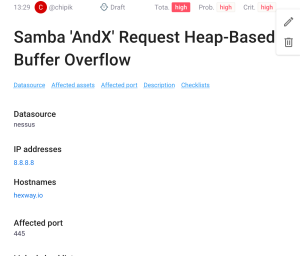 "Affected Assets" filter
One more tine useful improvement allows pentesters to filter affected assets in a sheet with the list of issues.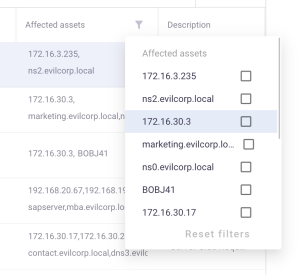 Password change for Apiary users
Last but not least in this feature parade is an option to change passwords for Apiary users. Yet there was no option to do so, which was kind of lame. Now you can change it if you forgot one!
Bugfix
Bugs can be a real pain. Hexway team is carefully listening to your support request to fix them. Thanks a lot to all our Discord users who keep an eye on such things. You help us make a product better! 
So, here's what this update contains: 
Hive & Apiary connection fix

Long status UI fix

Apiary sort by Score
That's it for today. We hope this update will bring a little pinch of joy to this Sober October. Upgrade your current versions or try features out now online!
Stay tuned!
If you're still reading this, here are a few ways of staying tuned better: