25 July 2022
July 2022. 0.43 version. Custom issue statuses & status sync. 
July was pretty intense for us as Hexway was getting ready to present a new pack of awesome features. It's no joke, the stakes are high! 
So, meet this month's winners:
Custom issue statuses

Status sync between Hive & Apiary

Hive update check from the About section

Updated Nmap parser (CN and DNS cert fields)

Import/ export for markdown checklists

Updated 12.11 Postgresql version 

Updated 3.8.34 Rabbitmq version
Let's have a quick walkthrough of this update — it's going to be fun!
Custom issue statuses
Regarding standards — it's always hard to fit everyone's needs. One of the main pros of Hexway is that the platform is very adaptive. Finding a perfect solution is difficult, but we try to make one. So, here are custom issue statuses!
Previously we had only two of them — "Ready" or "Draft". It's not much, but still working. Now it's not just two of them but a huge range of default statuses, and you can create your own! 
It helps a lot when you build a perfect workflow for pentest projects or try to find a special one. 
Here's a list of available default statuses: 
Draft

Verified

Ready

Retest required

Fix confirmed

Fix not confirmed
All statuses can be changed, renamed (any language is welcome), or replaced. Plus, you can pick a custom icon for the status!

Status sync between Hive & Apiary
Custom issue statuses are just a drop in a bucket. Let's see what else this update brings. Now Hexway users can sync statuses between Hive and Apiary. Customers can see new issues in real-time and send them back to you for retesting. Remediation and pentest have never been so easy. 
Just connect your Hive and Apiary projects, and you're all set.  All "Ready" issues will be sent to Apiary AKA Customer Portal — your customers will be notified.
Vice versa, when your customer sets "Retest required" status, the pentest team will see it.
Hive update check from the About section
Not a big deal but… No need to check out manually if we've uploaded a new version to our website anymore. In the About section, you can easily see if the latest version is available. Just click your userpic and find About!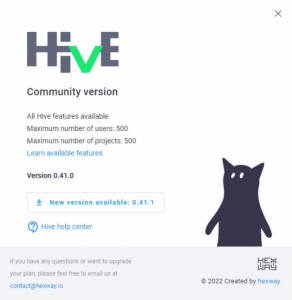 Updated Nmap parser (CN and DNS cert fields)
If you have passed the previous paragraph, we have a little pentest RECON tip for you! 
What if you want to know more of the company's domains? Start Nmap with --script="ssl-cert" flag (f.e nmap -n -Pn --script=ssl-cert 1.1.1.0/24 -oX output.xml), after that use output.xml to upload it to Hive.
What do you get? Not just available ports data but domains with SSL certificates. Easy breezy!
Import/ export for markdown checklists
Do you remember how cool Hive checklists are? Because now you can import or export them in markdown format. FYI, now you can share them in md too.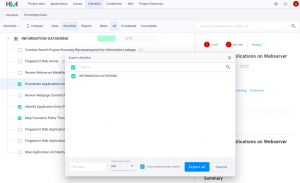 Bug fixes and Hexway updates
There were a few bugs that needed some attention… Plus we've updated Postgresql to 12.11 version and Rabbitmq to 3.8.34. 
By the way, all these amazing features are cool in text and real life. We are happy to show you how this can help optimize some processes in your daily routines. Don't hesitate to book a demo; maybe Hexway is your next partner! 
In other cases — we have a public demo stand with this cool stuff! Try now!